Entrepreneur Uses Product and Packaging Innovation to Make the Most of a Second Chance at Life
FOUR YEARS AFTER beating stage three colon cancer, Luke Taggart is savoring life. The day, that we interviewed the owner of the food & beverage startup Savor & Salt, he was getting ready for a tasting of his premium bloody mary mixers at the one of Chicago's many luxury high rises.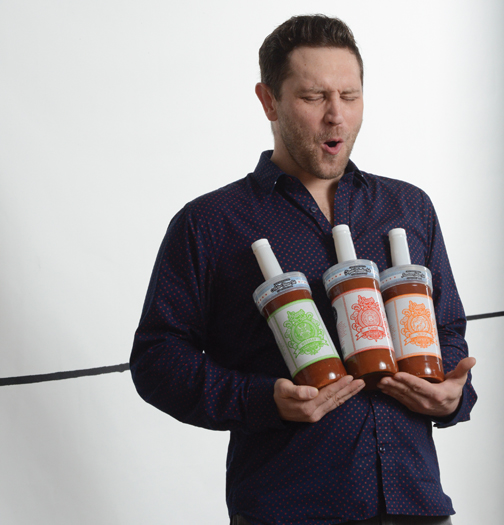 Taggart, whose background was in the restaurant business, started Savor & Salt, as a moonlighting venture after undergoing a lifesaving surgery that removed 2 ft. of his colon. "You get a different outlook on life once you think you are going to die," Taggart says. "It's a little more motivation to not put anything off. If you find something that you have a passion for, you just do it whatever it is.
"The biggest accomplishment in my career is starting this company," he adds. "It was a lot of work. It was a lot of research. There were late nights, a lot of money spent and a lot of stress, and I had so many fears going into this. The old motto, it's going to cost twice as much and take twice as long, is very true.
"I've put every dollar that I've ever owned into this," Taggart explains. "I sold my house back home. All the money that I made from that went into this. And it still was not enough. But it's been so rewarding and gratifying just starting this. Meeting all the people that I've met, and the journey is just starting."
The Power of People
In addition to the hard work and the initial investment, Taggart relied on a network of advisers to help him start up his hot new cocktail mixer company, including a Chicago-area spirits company that served as anonymous connector between Brand Experience magazine and Taggart. "Through my different jobs, I've met a lot of really good people who own other beverage companies," he explains. "So I was able to bounce ideas off people who ended up being in a similar industry as me." Taggart also immediately recognized the need for additional funding and sought out a micro-lender that shared his vision.
The vision was two part: To be able to start his own business and to bring his love of flavors to people in a way that enabled him to have a well-rounded life.
Advertisement
"So I've always wanted to work for myself and I love the restaurant industry, but being in the restaurant industry for 17 years I was ready to get out," he explains.
One aspect of restaurant work that Taggart loves is product and recipe development. He loved the challenge of delivering distinctive experiences to clientele, and he wanted to continue to bring something unique to the world. "I wanted to be different than everybody else. I think that's kind of like how my personality is," he explains, noting that the bloody mary mixer category seemed ripe for innovation.
"And I noticed that it was all pretty much the same thing, you get the traditional bloody mary flavor, maybe get mild or spicy, but there was really no difference between those different kinds of flavors," Taggart adds. "There are 20-plus different flavors of vodka, different flavors of rum, even margarita mixes have a bunch of different kinds of flavors. I thought it was very strange that you're pigeon-holed into one flavor if you were a bloody mary drinker." He wanted to give drinkers "cuisine options" like they were offered in restaurants, so he sought to create three different mixers that delivered the taste experiences of Asian, Caribbean and Mexican food.
Taggart also knew that efficient and successful recipe development couldn't be just trial and error, and he believes that he has a formula for success in the product category. "If you can do four things right, I think anyone can make a really good bloody mary," Taggart explains. "One of them is create texture or 'body' for the beverage, so I use tomato paste, because consumers will be adding another liquid and ice to the mix. I wanted every one of my bloody marys to have a little bit more body, not be like very thin. The next important ingredient is an acid. Every mix has to have some kind of vinegar in it and/or some kind of citrus whether that's lime juice, orange juice or pineapple juice. The third thing every bloody mary needs is heat. I believe every bloody mary needs some kind of spice to it. It shouldn't be melt-your-face-off spicy, but you should definitely feel some kind of heat. And then the last part of a great bloody mary is the salt and seasonings." Unfortunately, many consumers mixing drinks at home either forget or chose to skip the salt.
Innovation & Brand Experience
Savor & Salt is following in the footsteps of startup gone big brand, Method, by using packaging innovation to improve the end user's shopping experience. Method had developed its laundry pump packaging to discourage users from using too much of its concentrated laundry detergent in their washers, which can negatively impact the detergent's ability to perform. Taggart sought a package design-based solution to discourage his end consumers from mixing up cocktails without all the essential elements for a premium experience.
"The problem was, at home if you want salt, you have to either create the salt and seasoning mixes yourself or you have to buy it separately," Taggart explains. "And a lot of the salt containers that you buy separately are really big, take up a lot of space, and you're never really going to use that much salt—ever."
Advertisement
So, he worked collaboratively with a packaging industry supplier to create a salt container that would fit around the neck of the mixer bottle, enabling both to be merchandised together and encouraging consumers not to skip this vital step.
The salts and seasonings are held in a poly bag within the salt container/dispenser to keep the seasonings fresh. The consumer pours the seasoned salt into the rigid plastic container that's sized perfectly to fit the rim of a typical pint glass. The consumer then gets to experience all four characteristics of "a perfect bloody mary" and is ensured that the seasonings and salt will perfectly complement each particular flavor, whether it's Savor & Salts' Asian, Mexican or Jerk varietals.
SPONSORED VIDEO
Branding with Ferocity – Thinking Like an Indie Brand
Get a better understanding on how to leverage new technologies to engage and delight shoppers, sustainability's role in product and package design – being sustainable and premium are not mutually exclusive, plus best practices and tips for collaboration and how to launch new products and refresh existing product line-ups and brands.