Flexible and robust: new Ceresana study about the global market for polyethylene-LLDPE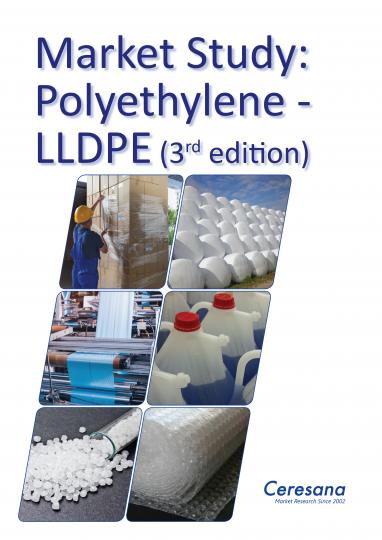 Ceresana releases its third comprehensive report on the global market for linear low-density polyethylene. Linear low-density polyethylene (LLDPE) is one of the most widely used types of standard plastics. Other varieties of polyethylene, especially LDPE and HDPE, are sometimes easier to process; however, LLDPE is more flexible and has a higher resistance against tearing, shocks, and punctures. These special properties are the result of the manufacturing process: copolymerization with alkenes at low temperatures and low pressure results in polymer chains with short branches only.
Bags for China
LLDPE films can be produced with reduced thickness, therefore saving considerable amounts of materials. Carrier bags, pouches, packaging materials, and agricultural covering films can be made of LLDPE, among others. The present study expects average growth of approx. 4.1% per year in the global demand for LLDPE until 2026. With a share of 51% of global demand volumes, the region Asia-Pacific is by far the largest consumer of LLDPE.
Packaging Films are Main Application
The most important sales market for LLDPE in 2018 was the application area "packaging films" with demand of 11.46 million metric tonnes, followed by bags and sacks. The entire packaging market, including rigid packaging, currently amounts to around 70% of total demand. However, more and more polyethylene of this type is used for other applications: the demand for LLDPE for the production of vehicles, toys, electronic and electrical devices, household appliances, medical technology, as well as mechanical and plant engineering will presumably achieve the highest percentage increases until 2026 with rates of 3.0% per year.
Processing by Means of Extrusion Dominates Market
Advertisement
The most important processing method for LLDPE is extrusion. More than 24.3 million tonnes of LDPE were processed around the globe in 2018 by means of film extrusion alone. Analysts at Ceresana expect that the global extrusion of pipes, profiles, and cables will achieve the highest growth during the next eight years with rates of 3.1% per year.
The Study in Brief:
Chapter 1 provides a comprehensive account and analysis of the global market for linear low-density polyethylene (LLDPE) – including forecasts until 2026. It features the development of demand, revenues, and production for each region. The various application areas of LLDPE are also examined: packaging films, bags and sacks, other films, rigid packaging, construction products, and other applications.
Chapter 2 analyses the 26 most important individual sales markets around the globe. Demand, revenues, trade, and production are described for each country, in some cases further split by application areas and processing technologies.
Chapter 3 provides useful company profiles of the most important manufacturers of LLDPE, clearly arranged according to contact information, revenues, profits, product range, production sites, capacities, and profile summary. Comprehensive profiles of 69 manufacturers are given.
Further information: www.ceresana.com/en/market-studies/plastics/polyethylene-lldpe/
About Ceresana
As one of the world's leading market research companies, Ceresana is specialized in the plastics, chemicals, packaging, and industrial goods sectors. Since 2002, companies have benefited from high-quality industry analyses and forecasts. More than 180 market reports provide over 10,000 customers with the knowledge base for their sustainable success. Learn more about Ceresana at www.ceresana.com/en
Advertisement
Editorial Note: This post was shared by a member of the BXP magazine community using our Community Voice tool.
Our website community uses the tool to post articles, thought-leadership reports and analyses, white papers, case studies, blog entries and op-eds, press releases and events about brand and package design or marketing. These posts are vetted and edited by our editorial staff for editorial relevance and decorum for branding, design, marketing and package design professionals. Approved and edited content then lives side-by-side with other editorial content. Overtly promotional content is not accepted, but we do have advertising options available for those interested in promoting their services or products.
Do you want to become a contributing author to the BXP website? Click here to learn how you can become a contributing member of the BXP Magazine community.
Advertisement
SPONSORED VIDEO
Branding with Ferocity – Thinking Like an Indie Brand
Get a better understanding on how to leverage new technologies to engage and delight shoppers, sustainability's role in product and package design – being sustainable and premium are not mutually exclusive, plus best practices and tips for collaboration and how to launch new products and refresh existing product line-ups and brands.