Makeover Challenge Concept Reveal: Coho Creative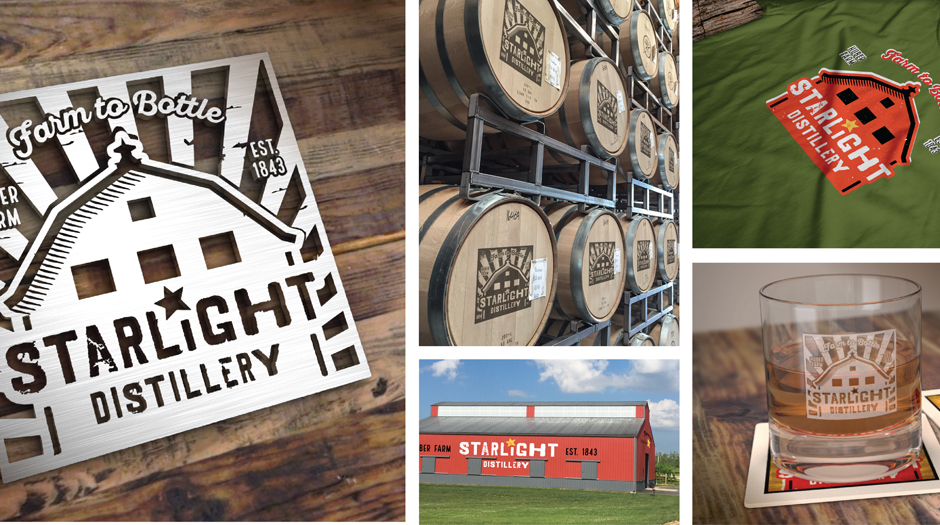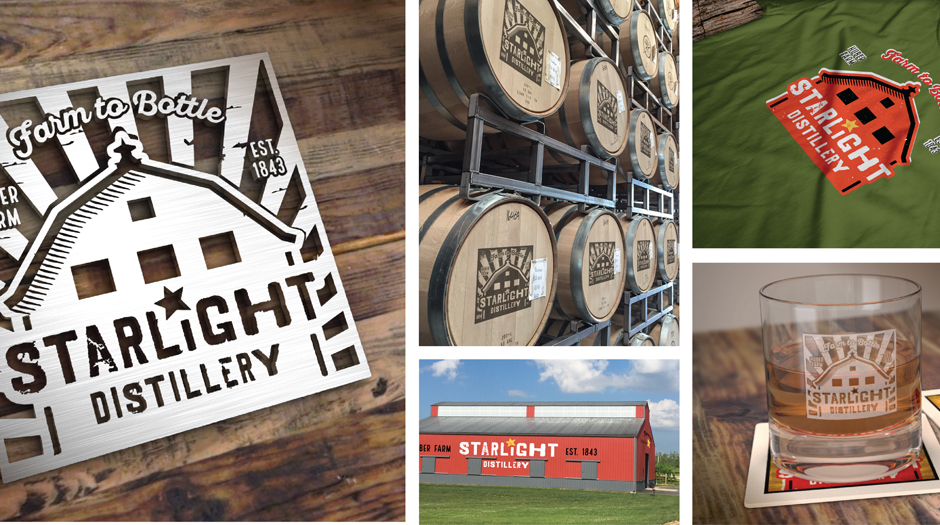 Coho Creative
"Coho really got our brand," Ellie Thomas, Makeover Challenge project lead and graphic designer at Starlight Distillery and Huber's Orchard and Winery, remarks. "And the Farm-to-bottle one is the cutest thing I've ever seen! When they showed us these three bottles, I just could not stop looking at them! I still can't—it's crazy, like they're crazy good."
Part of the concepts that especially appealed to Thomas was how the ingredient story was expressed. While Starlight has seen concepts for its spirits before that used imagery of corn, wheat and juniper, it has not seen this type of understated treatment. The also liked how the redesigned logo spoke to the agricultural roots of the company and remained sophisticated "even though the logo is kitschy and fun."
"We wanted the logo to be ownable and relative to the farm to bottle concept," Greg Zimmer, partner, chief client officer and chief strategy office at Coho Creative, explains. "If you look at the design when we go into the brand mark itself, this is actually a silhouette of the Huber barn—a barn that's probably been there since 1843."
Advertisement
Mike Skrzelowski, creative director at Coho Creative, adds, "This is definitely one of the things we wouldn't have considered if we hadn't actually immersed ourselves and visited." In the spirit of treating Huber and Starlight like real-world clients, the Coho Creative team—Zimmer, Skrzelowski and Trey Smith, director of client experience—made sure to visit the facility before landing on a concept. They also made their final concepts presentations in person to Thomas and Dana Huber, vice president of marketing and public relations at Huber's Orchard and Winery.
"One of the things we did before we put pen to paper for each design is craft a brand story," Zimmer recalls. "One of the great things about working with them is, the Huber folks have a lot of great history! Because their history is so substantive, they have a lot of great potential elements to pick and choose from to craft a brand story. On the tour we really discovered how vertically integrative they are. Most of the ingredients for distilling, wine-making, everything in their facility, comes from their own apple orchard, their own farm, in terms of their own corn it's in their own whiskey." Smith echoes the sentiment, saying "That initial immersion really did give us the toolbox to create from."
That barn became the starting point for the brand concept. Skrzelowski explains, "From there, we started to look into other design element associations that you would start to make with this idea of being from the farm and also being within spirits. A farm cycles from dawn to dusk, so we added the rising of the sunrays—indicative of a morning sunrise.
"We wanted to bring that visual language to bear into the design itself and we locked all that up sort of the top of every label," he continues. "So knowing that we had that strong amount of association story telling of memorableness with the brand and its secondary assets, we thought, 'Well, we can start to sort of use a little bit of color, to start to talk about relevance in terms of the specific type of alcohol, type of Spirits.'"
So they began to build the colorway with red at the top of each bottle and within each label. Blue pulled on the spirits category language to be easily identified as vodka. Green represented the botanicals in gin. A caramel brown adds immediate taste appeal to the bourbon whiskey.
Advertisement
"We wanted to make sure we were conveying visual information in somewhat consistent ways," Smith explains, "but doing so with a methodology that enables variance for a specific spirit category. So when you get into the Carl T. Huber's, which is their base Bourbon, we picked up a lot of things from Bourbon language and treated things in a very Bourbon-esque kind of way. Going over to the Simon's Gin, there's a little bit more restraint but at the same time it matches with the rest of the look, tone and feel with that sort of distressed looking type."
Thomas also reports that Coho nailed the messaging hierarchy. "They have all the words in all the right places," Thomas says. "That's not easy, especially the Carl T label, which has so many words, including signature blend, Indiana Straight, aged two years and, of course, bourbon whiskey."
Coho even went above and beyond, and named the vodka, 5 Point Vodka, after the five points of a star. This especially resonated with the Huber and Starlight team. "Naming the vodka is definitely something that we will look into at some point," says Thomas. "I like that they took it upon themselves to realize that these other two products have a name and the vodka needed that too.
"I think coming here to visit they not only took away the Huber family history and those things," Thomas adds, "but they were able to write their own stories for each one of these sets based on what they actually saw during their visit."
The farm-to-bottle was one of four concepts developed by Coho. "At first when they told me there was four initial concepts, I was like that's like a lot," Thomas recalls. "I remember thinking, how are we going to pick the final concept for the contest? But each concept is completely different.
Advertisement
"When they gave us the four sets to collaboratively choose from," Thomas recalls, "I asked, 'Did four different people work on this?' You can really tell that these are the work of four different people. As a designer myself, I know that it must have been fun for those four people to work on a fake project to come up with different concepts versus having to design by committee to make one real-world concept."
Although Farm-to-Bottle ultimately was the concept that Huber and Coho chose to enter into the contest, it would haven't been chosen by Huber for commercialization. "The one thing that Ted [Huber, company president] noticed and that we talked about as a team is if this wouldn't work if it was actually a real rebrand that would go across all of our spirit products. For example, we can't put this on a $60 bottle of private reserved brandy."
But as an academic exercise, the Huber team believes that this concept achieved almost all of the goals set out by Coho at the project's onset, including building a brand that is 1) ownable, 2) connectable, 3) relevant, 4) intuitive and 5) extendable.
The concept enhances the brand's ability to communicate its values, character and promise to its consumers; demonstrates the brand's standing within the spirits category and current culture while being true to the Huber and Starlight brand character; communicates on a functional, psychological and aesthetic level; and is extendable across multiple brand touch-points.
Most importantly, Thomas says, working with Coho showed the value of design and outside collaboration (both of which were strong core beliefs of Thomas as an individual) to the rest of the organization. It also helped highlight the importance of Thomas' work within the organization.
VOTE NOW
You can cast your vote now for the Coho Creative concept at www.bxpmagazine.com/makeoverchallenge2017. The agency with the most votes wins the challenge and will be featured in the December 2017 issue and invited to the 2018 BXP Live conference (www.bxplive.com), to be held at the Hyatt Regency Coconut Point Resort and Spa in Bonita Springs, FL, on February 26 to 28.
SPONSORED VIDEO
Branding with Ferocity – Thinking Like an Indie Brand
Get a better understanding on how to leverage new technologies to engage and delight shoppers, sustainability's role in product and package design – being sustainable and premium are not mutually exclusive, plus best practices and tips for collaboration and how to launch new products and refresh existing product line-ups and brands.