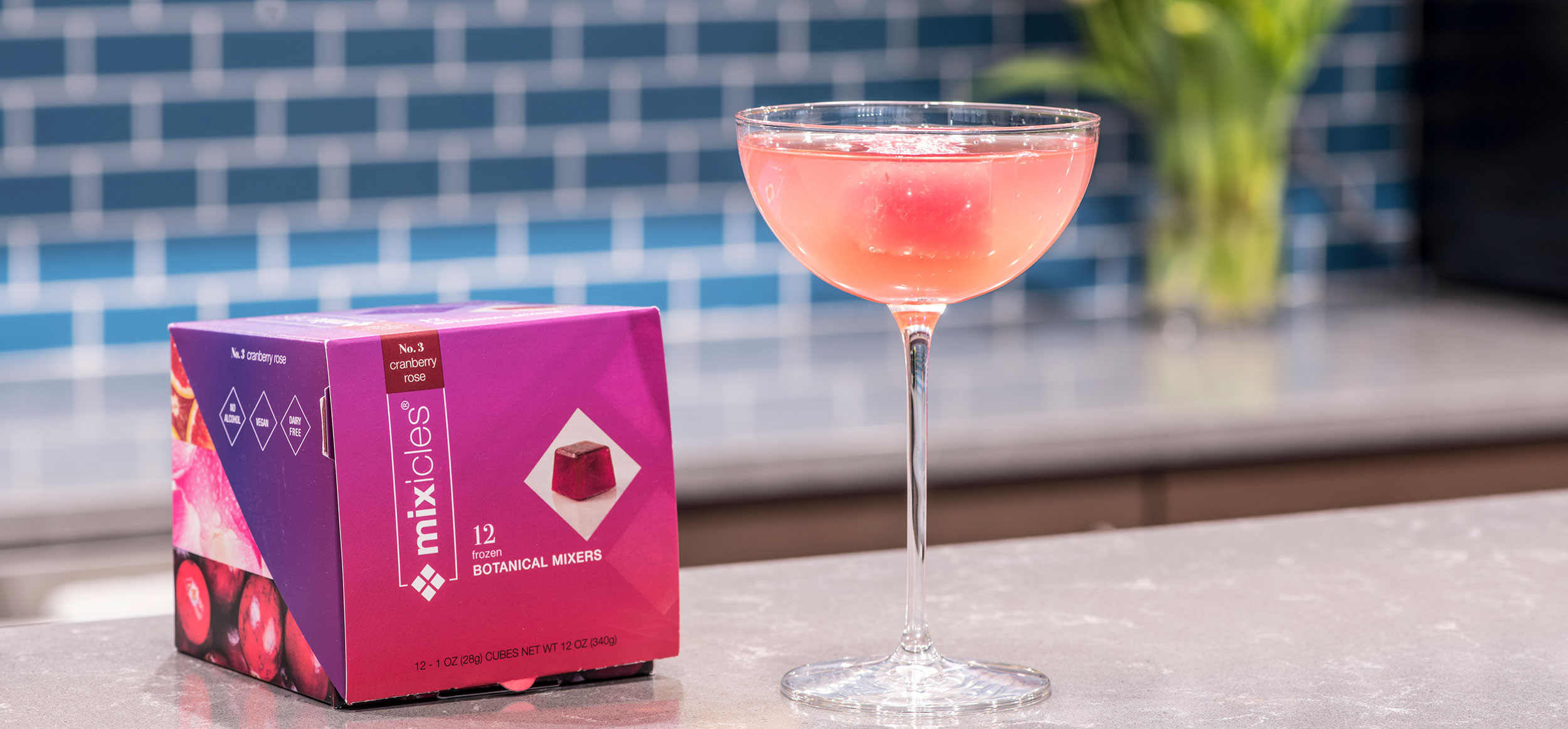 Infused with Delight
From package to product, a new beverage innovation delivers a transcendent brand experience.
IT STARTS IN bright, vivid color, this brand experience that beckons to consumers. With an opening flourish, the consumer is invited to explore a world of botanical delights. These delights and their packaging are so easy to use that the consumer is charmed into indulging again and again.
Crafted from the high-end botanical ingredients often found in premium cocktails, Mixicles are all-natural mixers that empower consumers to be their own bartenders. Cocktail fans need only to top a Mixicles cube with their favorite spirit or other beverage to discover a veritable garden of botanical delights.
Much like how a Mixicles cube pairs with spirits to elevate the drinking experience, the new package's structural and graphic designs work together to provide a fantastic experience on shelf and during use. This is in contrast to the brand packaging's humble beginnings.
At launch, Mixicles were packaged in a plain six-sided box that didn't belie the brand experience sought by the brand's co-founders Jason Stitt and Jen Morales for their home- or professional-bartender customers. "The design had to be both eye-catching and functional enough to be opened and closed multiple times," says David Brown, development designer and structural specialist for Cog, LLC, which designed and engineered the innovative structural design for Mixicles' packaging.
David Lukshus, president, partner and CEO of Cog, adds, "The initial box was awkward to fill and didn't have an easy opening that encouraged customers to open the box and enjoy the product."
There was also a problem with gaining retail placement. Morales explains, "When we first started taking our concept to vendors, we kept hearing the same constructive feedback, 'For this to be received as the unique premium product it is, you have to be in something other than a white box with a sticker for a seal.'"
Morales and Stitt started on the journey for an improved brand experience by working with graphic designer and art director Emma Jones. Stitt explains, "We had this graphic artist who can create amazing art. Still, there was this disconnect with how to translate Emma's designs onto a box. We looked at the big box companies for help, but they wanted minimum orders that we couldn't do back then. We were left with more questions than answers until I met David Lukshus from Cog. He explained that they could be the 'cog' piece that could get all these different parts of our package design working together, and they offered us favorable startup pricing."
Cog also respected Morales' and Stitt's opinions and input. "Cog took into account a lot of our thoughts and even helped flesh out one of my initial ideas," Stitt says, "then David Brown came up with a completely fresh concept.
"It's practical, too," he continues. "Instead of expensive options like a telescoping box, David Brown took a single sheet [of paperboard] and created a design that swings open like a jaw." Morales remarks, "Linda, it is so cool to open. It's also great to put together because we simply insert tabs into the sheet's cutouts."
The structural design then began to inform the graphic design. "When they handled one of our prototypes, Emma, Jason and Jen were inspired by its blank canvas and the way the box works," Brown says. "Some of the things I remember them saying include, 'Look at this. It gives us more real estate for the visuals that we didn't have originally.' They were free to explore because they knew the box wouldn't change much in commercial production; I always work within the bindery department standards of all the major box makers."
Advertisement
Lindsey Frimming, partner and chief innovation officer at Cog, adds, "This project was a true marriage of working not only with the brand but also with their designers and the printing-and-manufacturing partners to make sure everything was synergistic."
For the visual design, Jones conducted a deep dive into the alcoholic and soft drinks sectors across Europe and the U.S. Through research, collaboration and iteration, Jones, Morales and Stitt decided on an aesthetic approach with strong communication through the use of color. "They loved how bright and vibrant the Mixperience creative territory is," Jones says, "and how the gradients conveyed the idea of blending subtly—communicating the premium and simple characteristics of their frozen drink mixing cubes.
"I love their idea of infusing botanicals into a cube," she continues, "you get that chilled-out effect without watering down the drink, and then you have the visual of all those beautiful herbs in your cup. And it's exciting to tie this project with The Merry Mare Mobile Bar, which is a business that I've recently started with a couple of my American friends—Tracy Tekulve and Melissa Gerth. Melissa, Tracy and I deliver a high-end, premium European-style experience to the Cincinnati area, and Mixicles fits in well with our bar's brand.
"Our customers enjoy the interactive element of crafting cocktails with Mixicles, especially now that people are trying to have smaller events because of the pandemic," Jones adds. These events have about 20 people, and they see Mixicles as something that makes at-home events more adventurous."
Customers of ETC Produce & Provisions at Findlay Market also relish the product offerings' interactive characteristics, says Toncia Chavez, owner of ETC. "My customers love the Mixicles flavor assortment packs, and they love sharing all the inventive ways they are using the product," Chavez says. "When I say my customers have decided that they love Mixicles, I'm stating a fact. Mixicles don't sit on the shelf.
"We have at least 2,500 products at ETC that are from other businesses because I like giving startups a chance, but I don't keep ordering products if they don't move," she says. "Mixicles move."
Advertisement
PHOTO GALLERY
(5 IMAGES)
SPONSORED VIDEO
Branding with Ferocity – Thinking Like an Indie Brand
Get a better understanding on how to leverage new technologies to engage and delight shoppers, sustainability's role in product and package design – being sustainable and premium are not mutually exclusive, plus best practices and tips for collaboration and how to launch new products and refresh existing product line-ups and brands.