Package Designs for G Fuel's New Demon'ades Celebrate Esport Culture
Aggressive styling aims to inspire esport athletes and celebrate a key moment and its art in video gaming.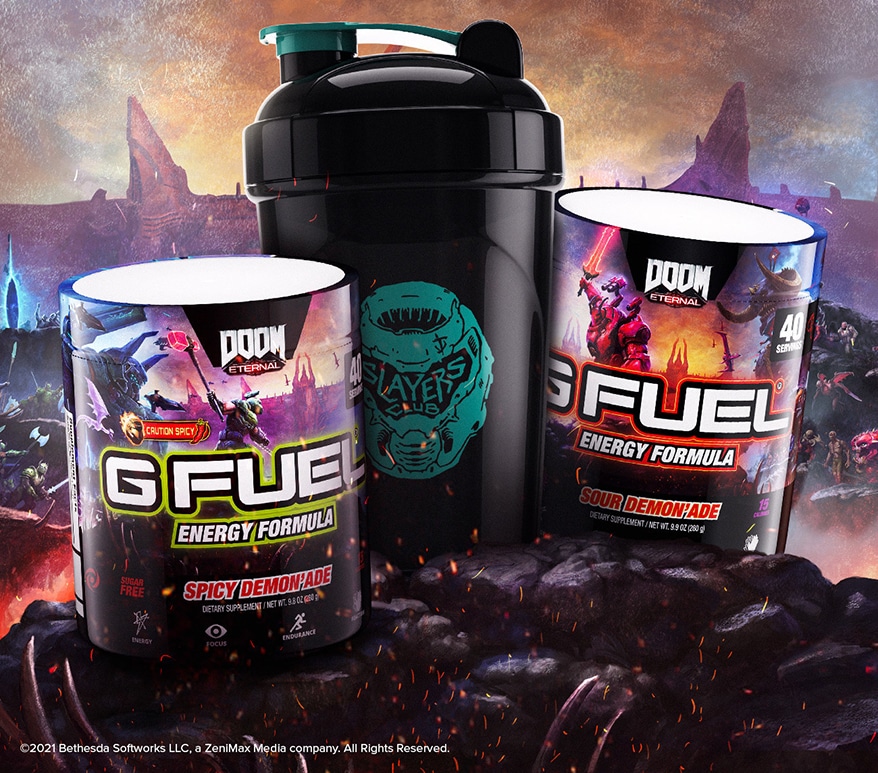 THE LATEST OFFERINGS from G Fuel, which owns the registered trademark, "The Official Energy Drink of Esports," celebrates esports culture with a product formula that aims to amplify esports athletes' ability to focus and react.
The package design for the new G Fuel Demon'ade Reskin is inspired by the Doom Eternal: The Ancient Gods—Part 2. The design features an aggressive color way dominated by black and strongly punctuated with pops of red, with visual depictions of the action in the video games.
The G Fuel Spicy Demon'ade Reskin tub features the DOOM Slayer wielding the Sentinel Hammer, with the Betrayer and an entire Sentinel army at his back. Both are ready for battle against the armies of Hell. The G Fuel Sour Demon'ade tub boasts the other side of the battle: a titan led by an evil enemy wielding a mighty Crucible sword and meeting the DOOM Slayer head on.
When the packaging for both drinks are placed side-by-side, the tub's front panels create the key art from the Doom Eternal: The Ancient Gods Part 2 DLC.
Both of G Fuel's new energy drinks were developed in partnership with interactive entertainment software brand Bethesda Softworks. G Fuel founder and CEO Cliff Morgan says both new products take G Fuel's "partnership with Bethesda Softworks to the next level."
The design and the product development demonstrates how truly understanding the culture of a niche audience can help inspire package designers to create packaging that delivers a superior brand experience before the product is even opened.
Advertisement
SPONSORED VIDEO
Branding with Ferocity – Thinking Like an Indie Brand
Get a better understanding on how to leverage new technologies to engage and delight shoppers, sustainability's role in product and package design – being sustainable and premium are not mutually exclusive, plus best practices and tips for collaboration and how to launch new products and refresh existing product line-ups and brands.