Precisely Beautiful and Clean
Whirlpool uses package design to elevate laundry day for its brand fans.
WHIRLPOOL HAD A PROBLEM. Some of its customers weren't happy with the results they were getting from their washing machines. They were voicing their frustrations on the company's social media channels and through their call centers. But the problem wasn't the machines. Just the opposite. Whirlpool designs its appliances for maximum efficiency. The washers use less water and as a result, need less detergent, but many customers hadn't changed their behavior.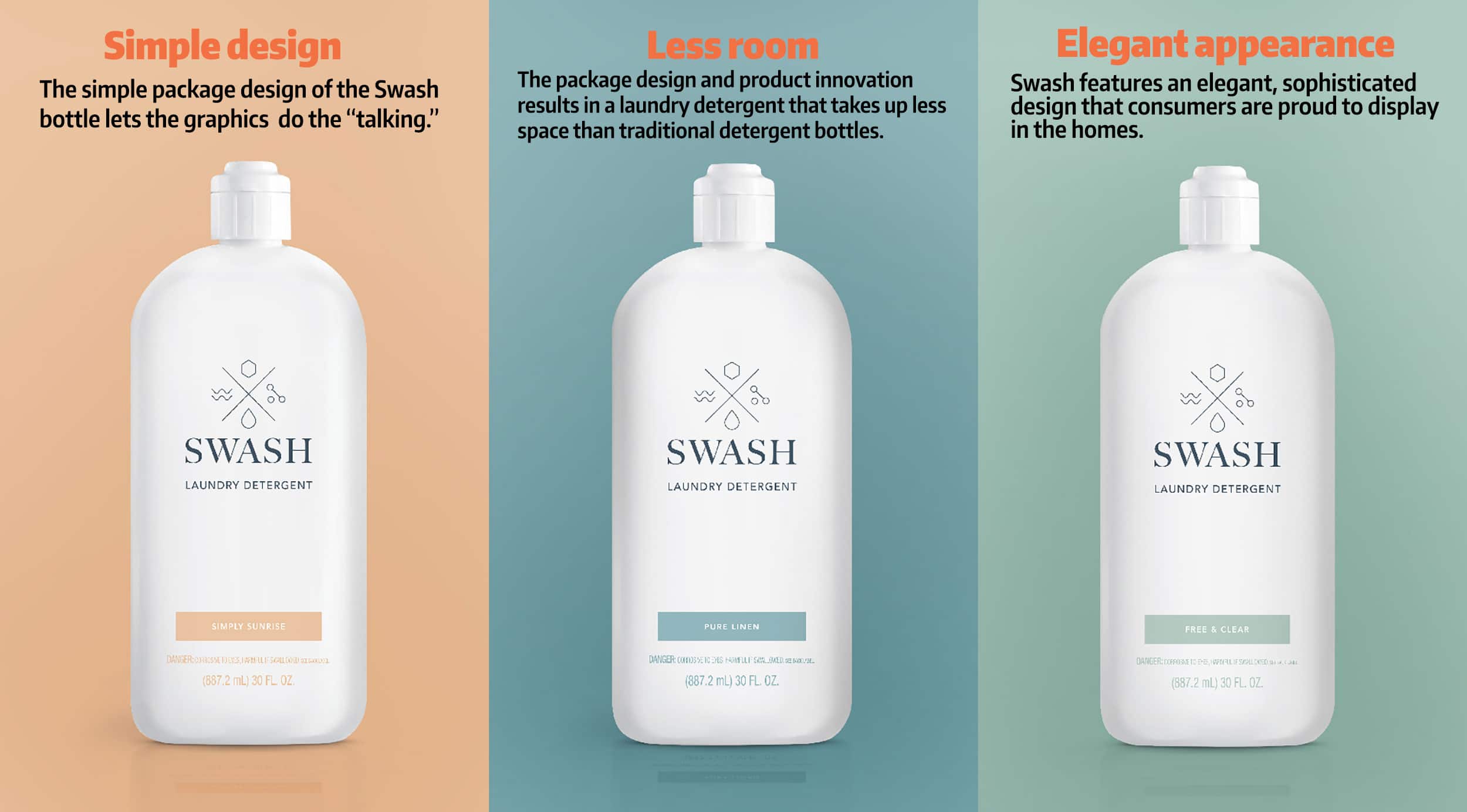 "Consumers fall prey sometimes to the misconception that more is better when it comes to laundry detergent," explains Brendan A. Bosch, product marketing director for NAR Laundry at Whirlpool Corporation. While consumer education is important to the brand and its brand fans, Whirlpool wanted an easier path to better brand experiences for its end customers, So the brand best known for its large household appliances developed its own laundry detergent—Swash—and collaborated on detergent packaging that delivers a precise dose of detergent for every wash and looks perfectly at home on the laundry room shelf.
THE KEY IS IN THE CAP
The remedy for overpouring is the valve technology in Swash's Precision Pour Cap. Bosch explains, "We have a cap that when you squeeze the detergent out of the bottle, it has a valve in there that will shut off the flow of detergent at the correct time, even if you keep squeezing it." The valve releases the exact amount for a normal load then resets once the bottle is back in an upright position.
Advertisement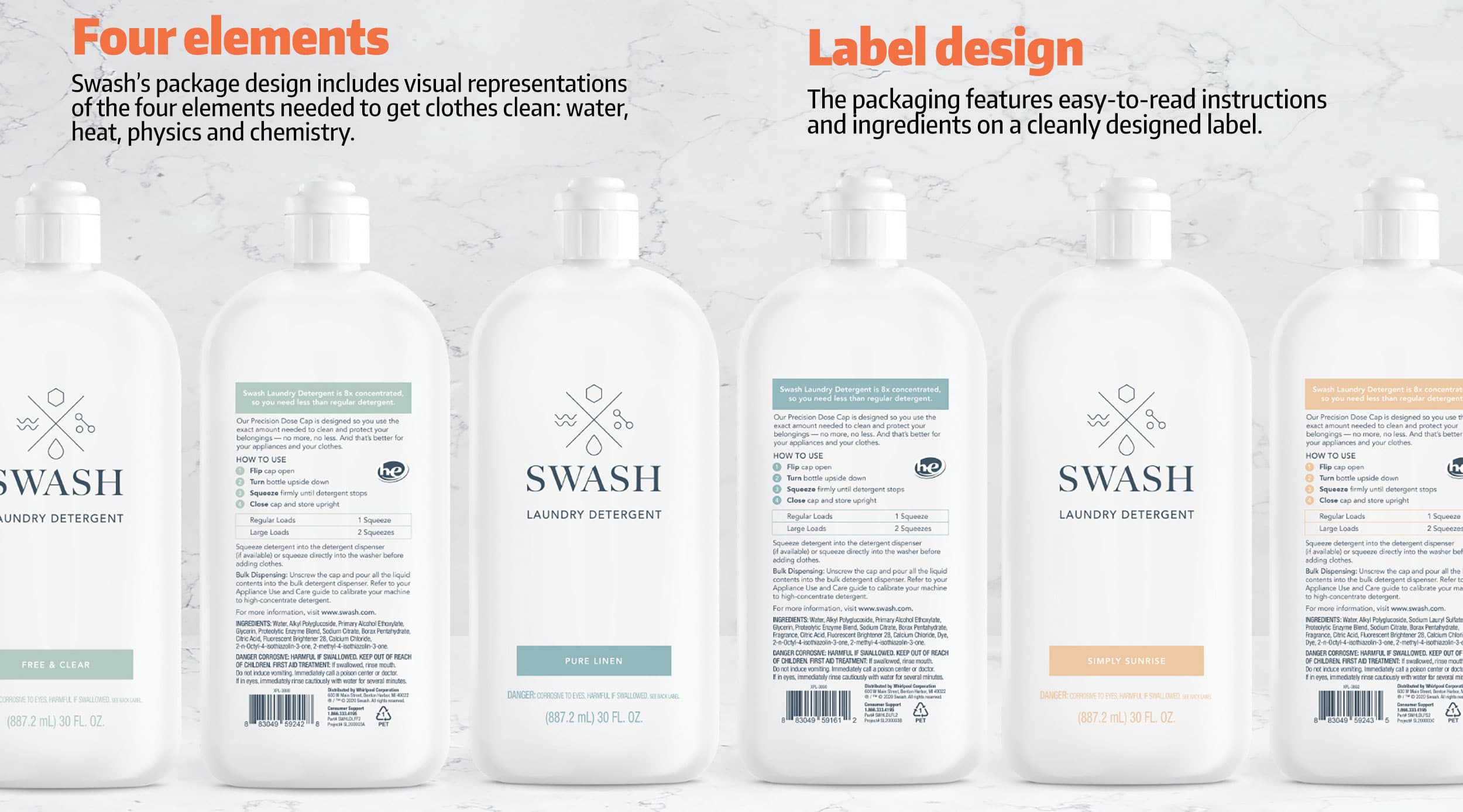 There are several benefits to precision dosing. For one, a bottle of Swash detergent lasts longer. It also helps customers hold onto their large appliances longer. Danielle Antonelli, senior brand manager for Swash, explains, "Using more detergent than you need can leave residue on clothing as well as build-up in your washer over time."
The measured approach combined with the ultra-concentrated formula also means that Swash is good for your clothes, your washing machine and the environment. There is less water in the bottle, which means Swash's carbon footprint for shipping is smaller.
Whirlpool knew two things about their detergent that would inform the product's packaging design. First, Swash would be sold directly to consumers via an online channel (Whirlpool partnered with Amazon on a subscription-based platform for direct replenishment). Second, the packaging had to match the aesthetics of Whirlpool's laundry machines. Now Whirlpool needed a design team to develop the brand and design its packaging. They identified Deskey early in the process. "It made a lot of sense to get a best-in-class design agency," says Bosch.
Advertisement
Deskey has a long history in detergent packaging design. The agency created the Tide bullseye in the 1940s. Because Swash would be sold on Amazon, Deskey didn't have to worry about consumers in stores. They didn't need bright, loud packaging to scream at customers from the shelves of Walmart and Costco. This meant the team could create an elegant design with simple packaging and branding concepts.
"Usually, the package has to do so much work," says Amanda Matusak, vice president of brand strategy for Deskey. "It has to grab attention. You have less than 30 seconds in the aisle — you're fighting with everything else, you're fighting with the kids—you have to have every power claim on there. Suddenly, you are allowed just to do a beautiful package and all the work gets done by the websites or by the background elements in Amazon."
OUT OF THE BASEMENT
Retail's move to online channels isn't a new thing, but it's occurring along with another trend and that's where people do their laundry. "We're seeing laundry machines moving out of the basement, moving out of the garage, and into the living spaces of the home," says Bosch. "When it's in the living space, it needs to look good. It needs to be something that you can be proud of." Because laundry rooms are no longer out-of-the-way places with brightly colored plastic containers lining sticky, cluttered shelves, consumers want packaging that looks good. As Bosch notes, "Aesthetics in our durable goods are becoming much more important."
This presented a challenge for the Deskey team. "Everything that you understand visually as laundry, you walk away from that," says Lianna McKenzie, who was recently named chief creative director and the first woman to hold that title in the firm. "It was a challenge, yes, but it was one the Deskey team relished. 'How do you take everything you know about the category — visuals, colors, visual cues—and change it and disrupt it?' [Whirlpool] had a very clear vision and challenged us really hard to come up with a new visual vocabulary for laundry."
Deskey sees Whirlpool for what it is at its heart, an engineering company. "Our job is to bring what's magical about Whirlpool employees and translate that for like-minded consumers out there," says Matusak. In other words, people who care about technology and how their appliances operate. The collaboration resulted in not just packaging, but a brand strategy and ultimately a superior brand experience. The partnership created a great experience for both the Deskey and Whirlpool teams too. "It was so awesome to work with people who get branding," says McKenzie. "I appreciate them challenging our design to break that mold."
Wash Away the Silos
While Whirlpool has engineering at heart, Bosch is quick to note that the brand leverages multidisciplinary internal teams to keepv Whirlpool a market leader.
Using the Swash project as an example, Bosch says internal expertise ranged from shopper marketing to chemistry and the project's all stars, who rocketed the project to success, include the aforementioned Antonelli; Amanda Herman, shopper marketing manager; Bruna Bettencourt, procurement manager; Lauren Nelson, brand manager; Anthony Hardaway, chemistry subject matter expert; Beth Jackson, senior engineering manager; and Damita Burton, product manager.
Advertisement
SPONSORED VIDEO
Branding with Ferocity – Thinking Like an Indie Brand
Get a better understanding on how to leverage new technologies to engage and delight shoppers, sustainability's role in product and package design – being sustainable and premium are not mutually exclusive, plus best practices and tips for collaboration and how to launch new products and refresh existing product line-ups and brands.