GP Pro introduces Insulair Hot Cup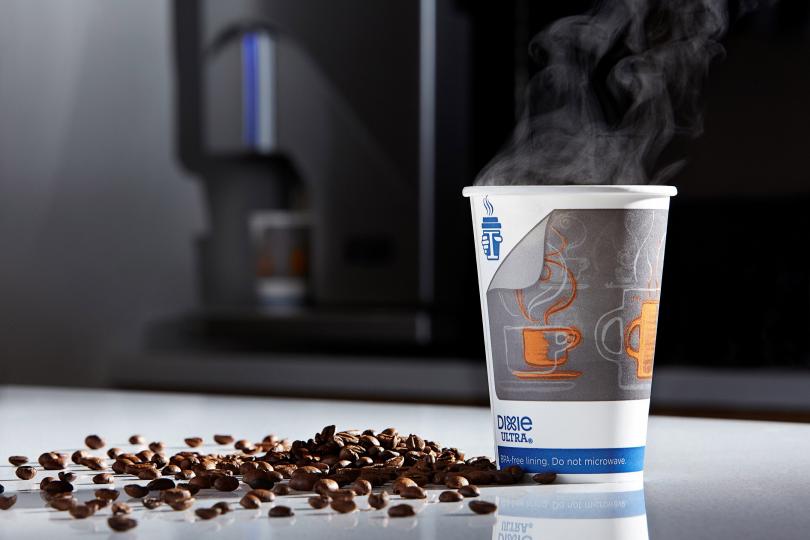 National Coffee Day falls on Saturday, Sept. 29 this year and just in time, GP Pro's Dixie Foodservice is releasing the Insulair Hot Cup.
The Insulair Hot Cup is a heat-activated disposable beverage cup that uses an internal air pocket, rather than the traditional beverage sleeve to keep beverages hot and hands cool.
"We are incredibly proud of the innovation and industry insight that went into designing the Dixie Ultra Insulair Hot Cup, and we are confident that it will quickly become the go-to cup for coffee-on-the-go," says Alec Frisch, GP Pro vice president for Foodservice, in a release. "For operators, the Insulair Hot Cup can help them improve efficiency, reduce costs, and deliver a better, more branded customer experience. And, for consumers, it will completely change how they enjoy their hot beverages on the go, undoubtedly making it the best part of their day!"
The Insulair Hot Cup is a single-wall paper cup with an interior lining made of a low density polyethylene film. Here's how it works:
Pour hot liquid into the cup
A thin heat-activated air pocket expands within the cup's lining
Air pocket adjusts to temperature of beverage
Grab and go!
The product is available in a 12, 16, or 20-oz. cup.
Advertisement
SPONSORED VIDEO
Branding with Ferocity – Thinking Like an Indie Brand
Get a better understanding on how to leverage new technologies to engage and delight shoppers, sustainability's role in product and package design – being sustainable and premium are not mutually exclusive, plus best practices and tips for collaboration and how to launch new products and refresh existing product line-ups and brands.