The List: the top five brands in London for some of the most relevant industries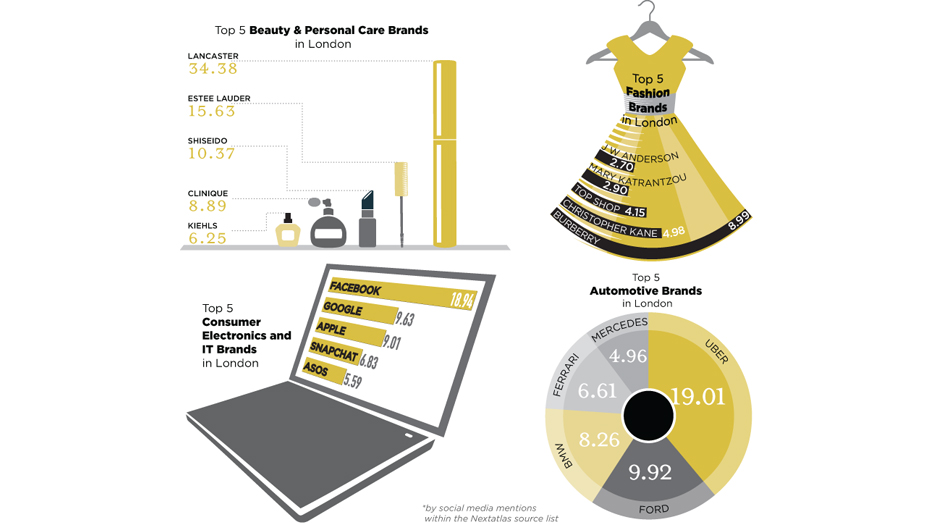 The [Brand Experience] List is created in partnership with Nextatlas, which clusters and ranks the social media content produced by a selected worldwide community of early adopters and influential insiders.
The charts below spotlight brand research from Nextatlas and were developed by our art director Don Heyl. They highlight the top five brands in London for some of the most relevant industries (fashion, beauty, food and beverages, and consumer electronics), according to the last 12 months' data emerging from Nextatlas sources. Every percentage indicates the number of sources mentioning a brand in London compared with the total number of sources mentioning the brands belonging to the same industry in London.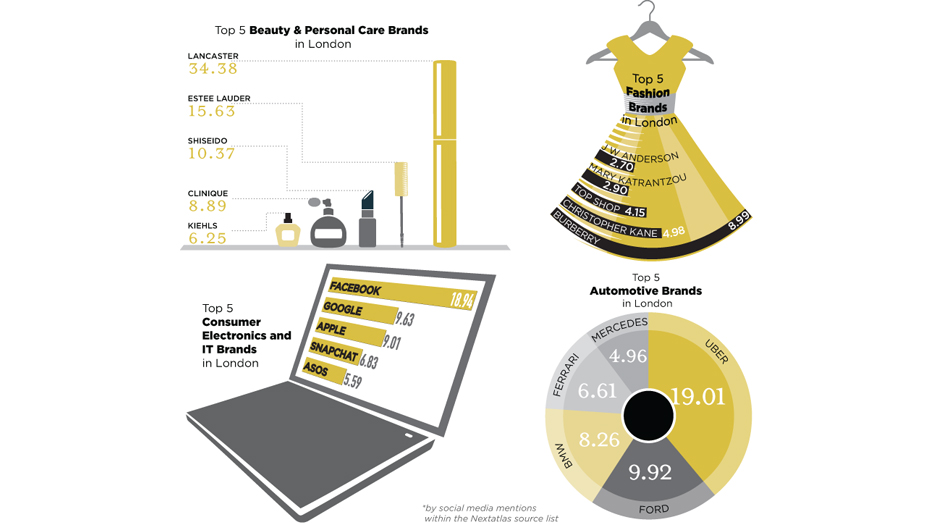 About Nextatlas Nextatlas forecasts trends by analyzing and interpreting data from a wide range of influential social sources. The platform tracks hundreds of thousands of the world's most influential creative industry insiders, evaluating their influence by looking at their network connections and how much those connections value the influencer. Robust social data, evaluated and validated in an ongoing process, inform the predictions on emerging trends, to build a picture of the near future.
As part of our partnership, Nextatlas is offering readers of Brand Experience magazine a 10% welcome discount on the first annual subscription. To start a free trial of the research service, visit www.nextatlas.com
Advertisement
SPONSORED VIDEO
Branding with Ferocity – Thinking Like an Indie Brand
Get a better understanding on how to leverage new technologies to engage and delight shoppers, sustainability's role in product and package design – being sustainable and premium are not mutually exclusive, plus best practices and tips for collaboration and how to launch new products and refresh existing product line-ups and brands.