Mr. Bubble Brings Bath Time Fun with Fizzing Potions & Blind Box Bath Bombs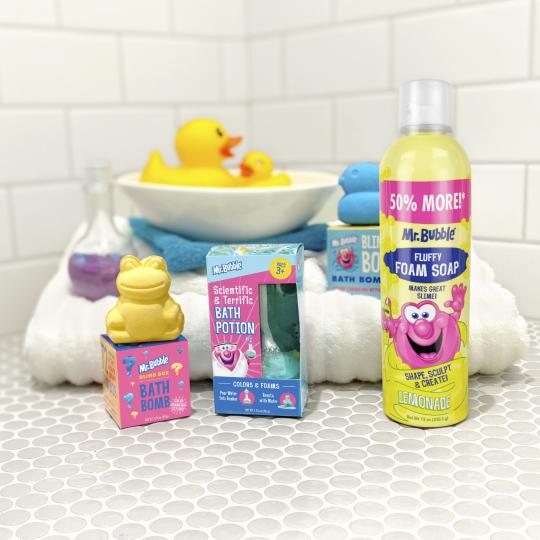 America's favorite bath-time buddy, Mr. Bubble, is innovating the indoor playground, aka the bathtub, with new bubblin' fun products created to engage children, as well as all-in-one options to bring convenience to the bath-time routine.
Mr. Bubble is adding new ways to make getting clean almost as much fun as getting dirty", says Michelle Hanson, Vice President of Marketing at The Village Company. "From mystery bath bombs to scientific potions, we're encouraging sensory play in the tub which is not only fun but also important for kids' development. We're also proud to launch our new all-in-one bars and liquids that provide an easy way for kids to get clean, while also being more environmentally-friendly. For nearly 60 years, our objective has been and continues to be pretty simple: make bath time easy for parents and fun for kids."
Scientific & Terrific Bath Potions Turn your Tub into a Bubblin' Fun Lab
Start developing those curious minds with Mr. Bubble's new Scientific & Terrific Bath Potion. Non-breakable, reusable beakers filled with colorful, pourable and mixable "potions" allow children to conduct bath time experiments and transform their bath or shower into a laboratory of bubblin' fun. Choose from pink, blue or yellow or collect all three to inspire your little mad scientist. Just add water. Each 1.75-ounce potion retails for $2.97. See the Bath Potion in action here.
All-in-One Cleansing Bar Makes Getting Clean Fun, Easy & Better for Mother Earth
Mr. Bubble puts the power of clean right in the palm of kids' hands with the All-in-One Cleansing Bar! Fun and easy to use, the all-in-one body and face wash + shampoo and conditioner packs the equivalent of 16 oz. of liquid soap into a 1.6 oz bar, making it not only a win-win for the bath, but for the planet as well. Plus, it's paraben- and phthalate-free and contains shea butter for extra moisturizing benefits. This magic, little bar sells for $1.98.
Advertisement
The Scientific & Terrific Bath Potions and All-in-One Cleansing Bar are available in Walmart stores now.
Blind Box Bath Bombs: Which Bath Bomb Will You Get?
Kids love a good surprise and with 72 possible combinations of scents, shapes and colors, Mr. Bubble's new Blind Box Bath Bombs won't disappoint! These bath bombs range in shapes from teddy bears to ducks, and just when kids think they've figured out the color, surprise… it changes! Keep them guessing and fizz them all. The 1.76-ounce bombs retail for $2.49 each.
It's a Clean Sweep: Extra Gentle 4 in1 Bubble Bath, Body Wash, Shampoo & Conditioner
This product does it all! Create big bubbles and a rich lather with the Mr. Bubble 4 in1 Bubble Bath, Body Wash, Shampoo & Conditioner. The extra gentle formula is hypoallergenic and free of dyes & fragrance so even kiddos with the most sensitive skin can enjoy the bubblin' fun. Ideal for the bath or shower, the convenient, easy-to-use product is the perfect fit for the entire family. The 16-ounce bottle retails for $4.99.
The Blind Bath Bombs and 4 in 1 Bubble Bath, Body Wash, Shampoo & Conditioner are available in Walgreens stores now.
Advertisement
For more information about products from Mr. Bubble, America's favorite bath-time buddy, please visit mrbubble.com.
Editorial Note: This post was shared by a member of the BXP magazine community using our Community Voice tool.
Our website community uses the tool to post articles, thought-leadership reports and analyses, white papers, case studies, blog entries and op-eds, press releases and events about brand and package design or marketing. These posts are vetted and edited by our editorial staff for editorial relevance and decorum for branding, design, marketing and package design professionals. Approved and edited content then lives side-by-side with other editorial content. Overtly promotional content is not accepted, but we do have advertising options available for those interested in promoting their services or products.
Do you want to become a contributing author to the BXP website? Click here to learn how you can become a contributing member of the BXP Magazine community.
Advertisement
SPONSORED VIDEO
Branding with Ferocity – Thinking Like an Indie Brand
Get a better understanding on how to leverage new technologies to engage and delight shoppers, sustainability's role in product and package design – being sustainable and premium are not mutually exclusive, plus best practices and tips for collaboration and how to launch new products and refresh existing product line-ups and brands.