Pepsico Introduces Bubly Bounce
New sparkling water brings Pepsico's bubly brand into the caffeinated beverage category.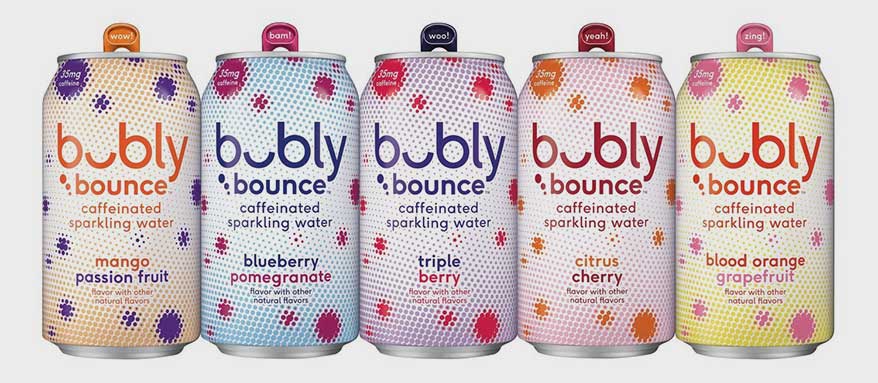 (PRESS RELEASE) Bubly, one of the fastest-growing brands in the sparkling water category, now combines everything people already love about bubly, with 35 mg of caffeine. bubly bounce is a new product from Pepsico that provides hydration with a little caffeine. The new Bounce line is packaged in the signature bright colors of the Bubly brand but also sports new effervescent and energetic graphics.
"Bubly sparkling water was created to bring more smiles into the sparkling water category, and new bubly bounce takes it to the next level with caffeine," says Zach Harris, vice president, water portfolio at PepsiCo Beverages North America. "As more individuals seek out sparkling waters with added benefits, bubly bounce delivers all of the delicious flavor and hydration of the original, now with just a kick of caffeine."
New bubly bounce sparkling water is available in five delicious combo flavors, including mango passion fruit, triple berry, blood orange grapefruit, citrus cherry and blueberry pomegranate. Bublybounce can be purchased at all major retailers, and online, and comes in a variety of convenient purchase options ranging from 16oz. single serve cans, to 24-packs of 12oz. cans. A 12oz. can of bubly bounce contains 35 mg of caffeine, while a 16oz. single serve can contains 47 mg of caffeine.
And for those keeping score at home, the bubly vs. bublé battle is far from over with bubly bounceon the scene. Michael Bublé is back at it in the latest commercial from the brand—this time, Bublé has everything he needs to take on bubly thanks to bubly bounce. You can check out the latest in the bubly vs. bublé battle here.
For more information on bubly bounce and the original bubly sparkling water, visit bubly.com and follow bubly @bublywater on Instagram, Facebook and Twitter.
SPONSORED VIDEO
Branding with Ferocity – Thinking Like an Indie Brand
Get a better understanding on how to leverage new technologies to engage and delight shoppers, sustainability's role in product and package design – being sustainable and premium are not mutually exclusive, plus best practices and tips for collaboration and how to launch new products and refresh existing product line-ups and brands.