5 Brands Win Packaging Design Honors in Designalytics Effectiveness Awards
Grand prize winner Dark Horse achieves 15% sales increase with help of bold redesign
Designalytics announced the winners of its second annual Designalytics Effectiveness Awards, which recognizes strong packaging design and its impact on driving sales growth for consumer brands.
Winner selection in the Designalytics Effectiveness Awards is entirely data-driven, based on sales performance in the marketplace and quantitative consumer testing of each design. For this year's contest, brands and their creative agencies submitted package redesigns launched in the U.S. between July 2018 and July 2020 for consideration.
Here are the winners:
Grand Prize
Dark Horse – Agency: ForceMajeure
Winners
Advertisement
Dove – Agency: ForceMajeure
Morningstar Farms – Agency: Design B&B
Theo Chocolate – Agency: Internal design team
Fat Snax – Agency: Interact
Dark Horse Leverages Distinctive Assets as Grand Prize Winner
This year's grand prize winner is Dark Horse, a wine brand owned by E. & J. Gallo Winery. ForceMajeure, a Brooklyn-based creative agency, led the redesign effort by leaning into the brand's key distinctive asset: its well known horse iconography. The agency also assigned a bold color to each variety, adding some "pop" and making the line easier for consumers to navigate.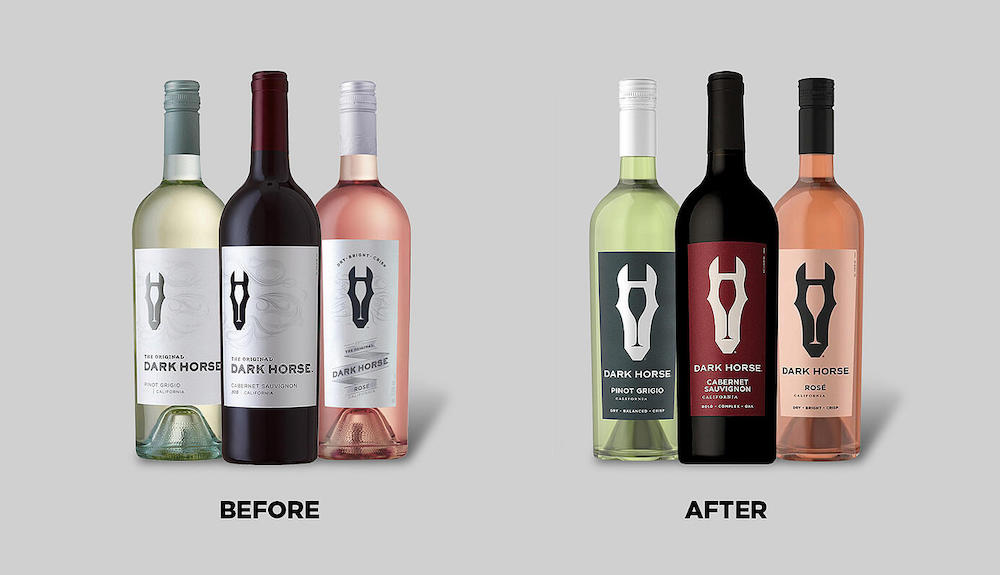 The redesign helped Dark Horse achieve a 15 percent increase in sales over the same period the previous year, outpacing the average for similarly priced wines.
Four More Winning Designs
Four additional winners hail from the food, beverage and personal care categories. To download the full report on the winning designs, visit designalytics.com.
Dove (body wash)
Manufacturer: Unilever
Agency: forceMAJEURE
Advertisement
Dove improved on its existing design by leveraging ingredient photography to capture the product's heightened sensory experiences and the specific benefits of each variety. The redesign helped drive double-digit sales growth and reach a new market-share high, exceeding 20 percent in the body wash category for the first time.
Morningstar Farms (plant-based meat)
Manufacturer: Kellogg's
Agency: Design B&B
Morningstar modernized its brand with new food photography. Changes to the hierarchy of communication helped consumers locate specific products more easily and realize the breadth of the brand's offerings. As a result, Morningstar Farm's sales grew by 14 percent following the relaunch.
Theo Chocolate (holiday chocolate)
Manufacturer: Theo Chocolate
Agency: Internal design team
Seasonal packaging for a premium chocolatier's line of holiday products amped up holiday gifting appeal. The updated packaging helped boost Theo Chocolate's sales by 37 percent compared to last year's seasonal packaging, with a 120 percent sales increase in the grocery channel.
Fat Snax (keto cookies)
Manufacturer: Fat Snax
Agency: Interact
Advertisement
A challenger brand boosted distribution and sales at brick-and-mortar retailers with a bold, cheeky look that appeals to mainstream cookie consumers and health-oriented buyers alike. The new design helped increase retail sales 94 percent after the relaunch. Notably, sales in Whole Foods stores that had carried Fat Snax prior to the redesign increased by 46 percent after the new design was introduced.
*Sales figures were derived from data by Nielsen and IRI. Sales for the six months following each redesign's launch were compared to sales from the same period during the prior year.
SPONSORED VIDEO
Branding with Ferocity – Thinking Like an Indie Brand
Get a better understanding on how to leverage new technologies to engage and delight shoppers, sustainability's role in product and package design – being sustainable and premium are not mutually exclusive, plus best practices and tips for collaboration and how to launch new products and refresh existing product line-ups and brands.